Phoenix Realm Fish Shooting Game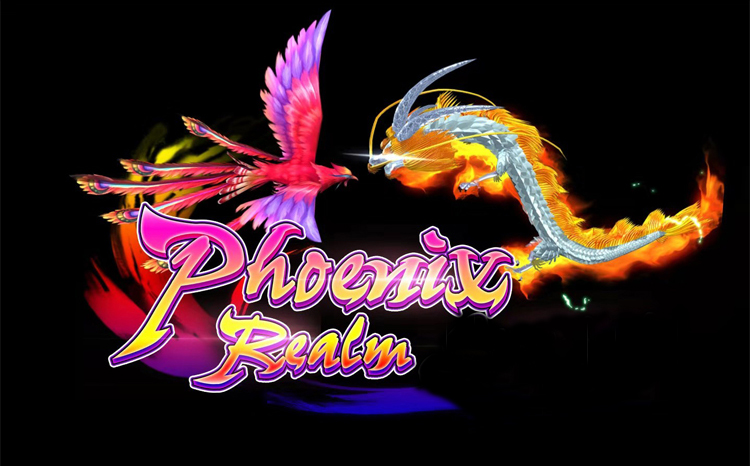 Play free demo
Fish table games have gained popularity over the years, with Phoenix Realm fish game table taking a sizeable chunk of that popularity. The game provides the player with an opportunity to showcase their skills on hunter arcade games. You can play for free using the demo option if you are starting. The table fish game does not require you to have any special playing skills. All that you need is a basic understanding of its overall design, and you are good to go. Keep reading to learn more about the Phoenix Realm skill fish game and how you can take home a significant win.
Top Casinos to Play Phoenix Realm Online for Real Money
Rank
Logo
Name
Bonus
Play
Sloto'Cash Casino

Up to

$4000

400%

Play
Uptown Aces Casino

Up to

$4000

400%

Play
Andromeda Casino

Up to

$5000

Play
Theme & Design
The Phoenix Realm fish shooting game is based around an arcade fishing hunter game inspired by an oceanic theme. It incorporates a wide range of colorful characters that make the game worth playing. The official gaming language is English.
The Phoenix Realm fish table game takes a lottery-like approach in its design and has 19 characters that the player seeks to catch. The game is set so that you use a wide range of special weapons that help you catch various fishes.
Phoenix Realm incorporates full-color ocean scenery and high-definition graphics that are sure to keep you hooked on the game. The visuals are well-balanced to make this game worth playing.
All You Need to Know About Game Features
The game's features are some of the most important considerations because they influence your overall experience. These include:
Special weapons – Besides the gun, players are granted access to numerous other special weapons to meet different objectives. You can use the Power-Up Energy Cannon capable of firing continuously for 30 seconds without recharging. There is also an invincible Cannonball that you can use to kill all fishes in the playfield instantly. And if you feel like you need something powerful that can explode in the playfield for 5 seconds, then you are better off exploring the Circular Power Grid.
Lucky Fish – Any Phoenix Realm fish table game player receives an x2-x3 bonus reward for killing the lucky fish. The maximum win you can get from such a brilliant gambling move is x150.
Heat Flames – Use this feature to create a snake-like flame across the playfield that would damage any fish that touches it.
Frozen Stopwatch – Sometimes, you need something cunning that gives the player an upper hand during fish hunting. When that becomes a necessity amid gameplay, you can explore this feature. It freezes the fishes in a particular range and allows you to get a good shot for double scores.
Rolling Thunder – Players earn the rolling thunder bomb by successfully hitting the octopus. The essence of this weapon is to strike down common fish species in the water.
Chain Lightning – When the game becomes challenging and feels like you are about to lose, launch this feature to establish a chain among the fishes on the mobile screen. It damages many of these fishes at a go.
Get Ready to Dive Deep into the Gameplay
To play the Phoenix Realm fish arcade machine, you need to understand the rationale behind it. Your aim in this game is to catch as many fishes as you can.
The more you catch, the higher points you get. The design of the game is such that all your hard work will pay off.
Dive into the underwaters and put your fish shooting skills to the test with Phoenix Realm. As you have fun, you also get the opportunity to explore the existing sweepstake to enjoy.
Follow these steps to start gaming:
Step 1 – Install and launch the app
You need to install the game's app on your mobile phone for you to play. The installation can be done through Play Store or as an APK file. Once installed, launch the game to get started.
Once on the game's main screen, you can access various betting options that you can explore before you start playing. Whereas you can play for free, placing a bet allows you to play for real money. Ensure the bet placed is an amount that you can willingly lose because, after all, this is a gamble.
Step 3 – Take your shot and catch
With the bet placed and the Phoenix Realm skill fish game loaded, you are set to start enjoying. Get started with exploring the underwaters and catching as many fish as you can. Remember to utilize the features described above for a seamless gaming experience.
Becoming a Lucky Winner
You can play Phoenix Realm online for real money and win using the right strategies. For starters, make sure that you utilize the demo mode to understand the game better. When you start playing with real money, you will have identified your mistakes and know what to avoid.
Conclusion
Playing the Phoenix Realm fish shooting game is a fun encounter and a chance to win real cash. Make sure that you implement an effective strategy that helps you strike the desired win.